Cruises
Gourmet Sailing offers fully customisable private yacht charters around Nelson, Abel Tasman National Park, Golden Bay and the Marlborough Sounds. Our chef can create a delicious menu for you using fresh local ingredients, or you may choose to self-cater for a discounted rate. (Read more about our catering options). We only offer private charters, which means your group has exclusive use of our yachts, the full attention of our crew and the freedom to plan your own itinerary. Both our yachts have comfortable bedrooms allowing you to fully unwind and enjoy a multi-day trip. (Read more about our yacht specifications).
Abel Tasman National Park
A private yacht cruise is the perfect way to explore this stunning New Zealand destination. Anchor at secluded beaches inaccessible by land. The park boasts one of New Zealand's nine 'Great Walks'. Our guests love to take the opportunity to walk sections of the scenic track without the burden of carrying gear or rush to cover a certain distance. Stroll at your leisure; meanwhile your yacht sails to the next bay to meet you. Your stewardess awaits on the beach with cold refreshments and a delicious gourmet lunch prepared for your arrival. Extend your trip and explore the beautiful beaches of Golden Bay.
We spent each evening in a different quiet anchorage in the Abel Tasman Park. The meals were outstanding and the service impeccable …. Read full review.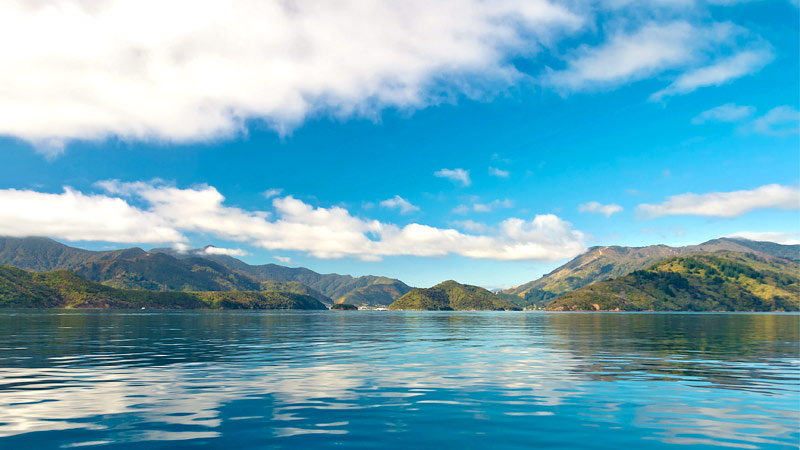 Marlborough Sounds
Encompassing one-fifth of New Zealand's total coastline, a maze of deep coves and secluded bays fringed by native forests, the Marlborough Sounds is a truely unique area of New Zealand.
We felt like VIPs. I couldn't recommend this more for a truly wonderful experience in an absolutely stunning scenic part of the world. This experience will be remembered fondly for years and years to come… Read full review
Nelson Harbour Cruises
Relax and enjoy views of sunny Nelson from a new perspective as you cruise around the calm harbour. This cruise is ideal for showing off Nelson to your guests, or for celebrating a special occasion with drinks and nibbles out on the water. Indulge in a full three course dinner while watching the sun set over the ocean. Visit the Nelson lighthouse or Haulashore Island.
We held our Christmas function with Gourmet Sailing. We couldn't believe the value for money. We were served an amazing four-course meal whilst spending a wonderful four hours cruising around Nelson harbour… Read full review
Corporate Charters
Gourmet Sailing specialises in exclusive charters for corporate groups. From a relaxing staff retreat to a more challenging team-building experience, we work with you to tailor the perfect trip to suit your needs.
We had a staff party on board the luxury boat and it was by far the most memorable dining experience I've ever had in New Zealand! …Read full review
Packages
Gourmet Sailing works with a variety of other operators in the Nelson area, please ask us about options to add extras to your trip such as; kayaking, guided walks, cycling, helicopter tours, luxury rental cars, accommodation in local lodges and resorts, and wedding packages.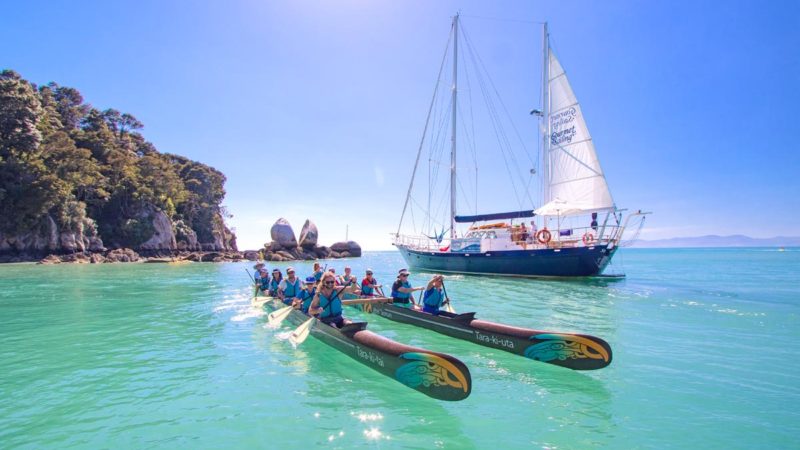 Waka Abel Tasman
A truly unique experience to add alongside your cruise with Gourmet Sailing — paddle in Waka Abel Tasman's double-hulled (waka tuarua) or single-hulled outrigger canoes (waka ama), and share in New Zealand's treasured heritage. Waka (Māori canoe) are the living expression of our tūpuna (ancestors) who sailed the Pacific Ocean for thousands of years.
Luxury Car Rental
Travel the scenic coastal roads of the sunny Nelson region with the top down and let your spectacular holiday begin before you even reach the dock! Rent A Classic offers a selection of luxury convertibles and sports cars so that you can enjoy your journey in comfort and style. They provide a particularly personal service, taking time to familiarise you with your chosen car, and have it delivered to your desired location.
New Zealand Wedding Packages
Dreaming of an intimate wedding in a beautiful natural location, with someone else taking care of all the planning for you? Gourmet Sailing is part of the team of professionals at New Zealand Wedding Packages with plenty of local knowledge and experience to ensure you have the best the region has to offer, and a personal wedding planner will work with you to ensure all your wishes and details are taken care of.